Surely reverb is one of the most useful effects in an audio engineer's toolkit? There is a huge variety of third party reverb plug-ins that you can buy today to mix with but choosing the right reverb plug-in for the job can be difficult at times without first hearing what they can achieve.
If you're in the market for a new reverb plug-in and unsure of which one to go for then we've consolidated a number of our reverb plug-in reviews and free video tutorials to help you hear the differences between a number of popular third party reverb plug-ins.
We have also included a number of videos which demonstrate the powers of some popular de-reverb plug-ins.
Reverbs That Emulate Reverb Hardware Or Real Spaces
The plug-ins which fall into this category are either hardcore emulations of popular reverb units or as close as you like recreations of real spaces.
In this video, I have talented flutist/vocalist Ruth Schwarcz improvising over an extended arrangement. With the Universal Audio Capitol Chambers reverb toggling between wet solo, and mix blend, you will hear the stunning dense reflections and unique qualities these chambers offer. Simply put, this reverb has VIBE and character!
In this free video tutorial we use LiquidSonics Seventh Heaven reverb to show you a visual representation of how a pre delay works along with a basic drum mixing application in which pre delay works very well.
In this extended video, Production Expert team member Julian Rodgers auditions four of the seven classic Lexicon algorithms which are available as part of the Lexicon PCM Native bundle. using Salt In Fresh Cuts by Joel Tavares he demonstrates the distinctive character of the Room, Vintage Plate, Random Hall and Chamber algorithms.
In this short video tutorial, producer Paul Drew shows you how to use the UAD Lexicon 480L plugin on vocals.
Released in 1986, the Lexicon® 480L Digital Effects System and its iconic fader-driven remote control are recognized the world over — residing at the center of famous studio consoles for more than 30 years. The 480L's spacious reverb and vivid effects textures are a coveted sonic benchmark, helping to shape thousands of chart-topping tracks to this day.
In this free tutorial, you will learn how to use the Waves Abbey Road Plate Reverb plug-in on a lead male vocal. Watch the video to gain an understanding of the controls and to hear the results of the damper control and plate reverbs.
Generic Reverbs
The following products are more general purpose reverbs that haven't been designed to mimic any particular "enter brand name here" reverb sound. Some of the reverbs in this category are quite quirky and creative making some of these perfect tools for sound design.
In this video we give you a quick guided tour of Lustrous Plates followed by a demo that shows you a number of different sounds you can achieve quickly on a lead vocal track.
De-Reverb Plug-ins
There are times when a recording was tracked in a very ambient space which colours and washes out the sound too much in the mix. Luckily there are a good few tools available which can help reduce excessive ambience which are very simple to apply.
In this free video tutorial, Pro Tools Expert Team member Julian Rodgers looks at SPL De-Verb from Plugin Alliance.
Mike Thornton from Pro Tools Expert reviews the new version of Unveil from Zyntapiq.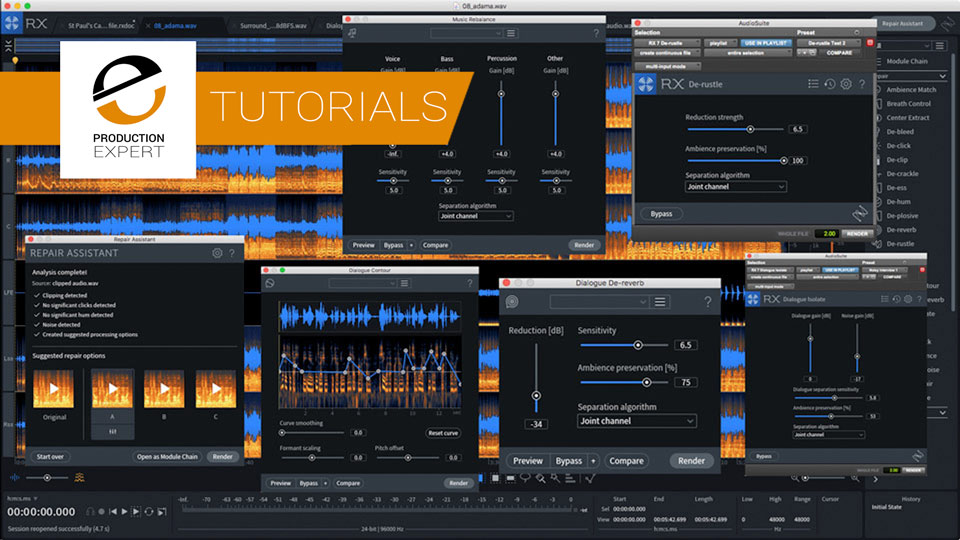 In this article you can learn how to use two of the new modules iZotope has introduced in RX 7 Advanced, the Dialogue Contour module, which has been designed to reshape the inflection of words within a phrase of dialogue to match takes or tweak the emotional resonance of a speaker, saving you time and money on ADR and additional post work.
In this Pro Tools Expert review, Dan Cooper takes a look at a new one knob dereverberation plug-in called ERA-R by Accusonus.