We have pulled together all the Production Expert Reviews we've published over the years that featured drum virtual instruments and sample library products used by countless producers, songwriters and recording artists. Whether your production workflow leans more towards drum packages which sound like authentic kits or electronic drum machines, we've got you covered.
If you are in the market for a new drum library or virtual instrument then this list represents some of the best drum software products you can buy today to get your grooves down in your next production.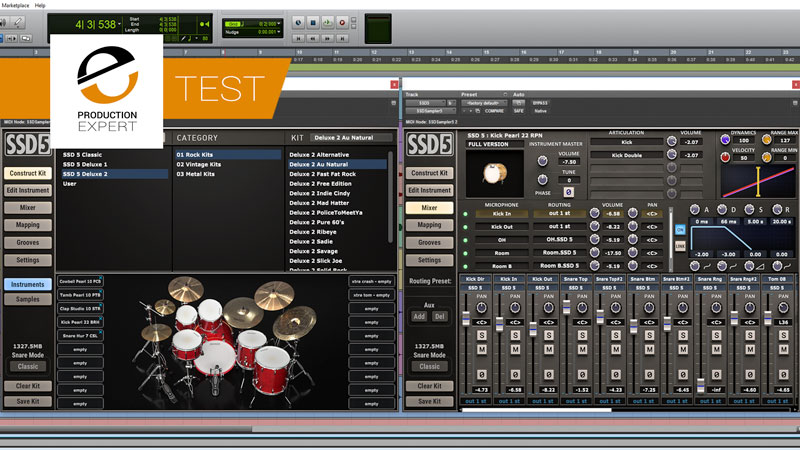 Recently, Steven and the team at Steven Slate Drums released the latest version of SSD, Steven Slate Drums 5. Now what I could do is give you a blow by blow walk through of the new and improved user interface. Or, I could tell you how wonderful the samples are and how low the CPU usage is, but no, there are plenty of other folk out there in "internet land" who are going to be doing that. What I'm going to do is let you listen to how I have been using SSD 5 in a real world session. I'll tell you about a couple of the tweaks I have made and I'll let you listen to a basic rock band mix with some of the different kits I really like.
UVI's latest instrument Drum Designer is smart by providing users with two workflows within the instrument. Users can either load an entire kit (containing kick, snare, claps and cymbals only) and program their grooves within the built-in sequencer using global effects or they can use an instance of Drum Designers on individual kit pieces and tracks within their DAWs.
The long awaited release of Superior Drummer 3 by Toontrack is finally here. Toontrack describe this latest version of Superior Drummer as "The complete drum production studio.", we agree - it's amazing.
Russ takes a look and listen to the latest offering from Native Instruments the new Drum Lab Kontakt instrument. Find out what he thinks.
Russ takes a look at the NI Battery drum sampler and asks in a world of samplers and drum VIs is there a need for a dedicated drum sampler and have Native Instruments done enough with this new version?