We announced that Nectar 3 from iZotope was coming in November. Just 2 days into November and it's here. Nectar 3 has undergone a complete redesign, iZotope have added 5 new modules as well as having improvements to the other modules for a total of twelve vocal processing modules. Nectar 3 now comes with Celemony's Melodyne 4 essential time and pitch correction. Check out what it can do.
Nectar 3 contains iZotope's most sophisticated set of tools designed for vocal production yet. With corrective tools through creative vocal production tools all the way to the final polish, Nectar 3 has been designed to bring out the intended performance in isolation and in the context of the mix, helping you to easily get your vocals to sit in the mix.
What's New In Nectar 3?
Vocal Assistant
Vocal Assistant has been designed to listen to your audio and gets you started with a custom preset, adjusted to that vocal. Nectar 3 also has tools that enable time consuming tasks like corrective EQ, dynamics, and de-essing to be performed quickly. Vocal Assistant has been designed to intelligently set an optimal input level with Auto Level Mode.
In The Mix
Vocals are a big part of any mix, but they're not the only element. iZotope have added their special Relay plug-in which with Nectar 3 will help place your vocal at the where it needs to be in the mix, creating space by moving other competing elements out of the way automatically.
Vocal Assistant: Unmask is designed to communicate with any instance of Nectar 3, Neutron 2 Advanced, or iZotope Relay (included with Nectar 3) to create the pocket for your vocal.
A Brand New EQ
Experience EQ in a brand new way and stay in your creative zone, with powerful controls available directly from your selected EQ node.
The Dynamic EQ mode responds to the dynamic level of your audio, allowing you to make transparent cuts or boosts.
The Follow EQ Mode will ride selected frequencies and their harmonics for unparalleled control of pitch information so you don't have to make hours of corrective manual edits by hand.
iZotope has partnered with Celemony to include Melodyne 4 essential in Nectar 3 designed to give surgical, intuitive, and pitch adjustment capabilities.
Nectar 3 comes bundled with some of the magic of RX. RX 7 Breath Control is designed to detect breaths in dialogue or vocal recordings and automatically suppress them, or make them disappear, reducing time spent in the comping and editing stage.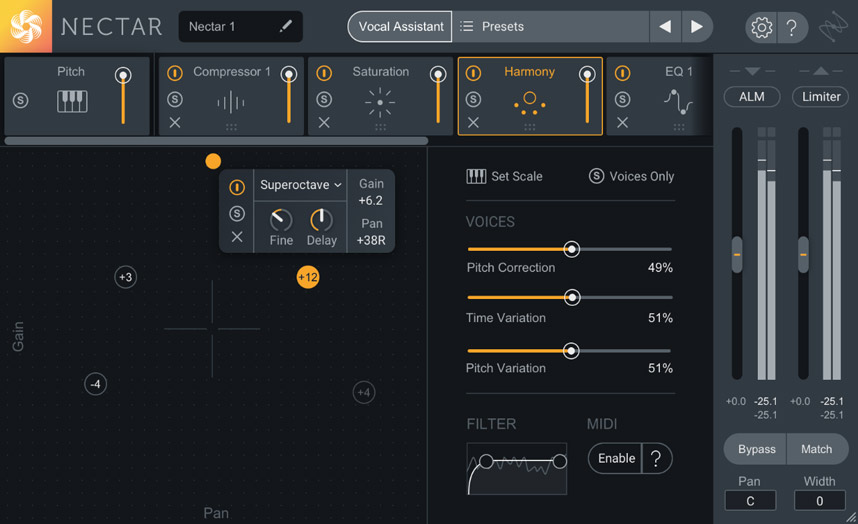 Nectar 3 Pricing
Nectar Elements Includes:

Price: Introductory Price $99 - Regular price $129

Nectar 3 Includes:

Nectar 3 plug-in

Melodyne 4 essential

RX 7 Breath Control

Price: Introductory Price $199 - Regular price $249

Vocal Chain Bundle Includes:

Nectar 3 Plug-in

Melodyne 4 essential

VocalSynth 2

RX Elements

Music Production Suite 2 Includes:

Nectar 3

Melodyne 4 essential

RX 7 Breath Control

Ozone 8 Advanced

Neutron 2 Advanced

RX 7 Standard

VocalSynth 2

Insight 2

Price: Introductory Price $599 - Regular price $999

Upgrades - If you own an iZotope product, you are eligible for an upgrade discount.

Visit your account for your upgrade coupon.