At NAMM 2018, Antares Technologies are announcing Auto-Tune Pro, their newest, most advanced version of its industry-standard pitch-correction software.
New Interface
Auto-Tune Pro features a new interface that has been redesigned from the ground up for more streamlined workflow.
The included Auto-Key plug-in provides automatic key detection. Auto-Tune Pro also includes ARA support with compatible VST3 DAWs and adds popular user-requested features such as Classic Mode for getting that legendary Auto-Tune 5 sound.
A new Settings menu includes commonly used preferences for session-specific settings. Other new features include MIDI CC control of parameters in Automatic Mode and HiDPI support for Retina and other high-resolution displays.
New Automatic Mode Features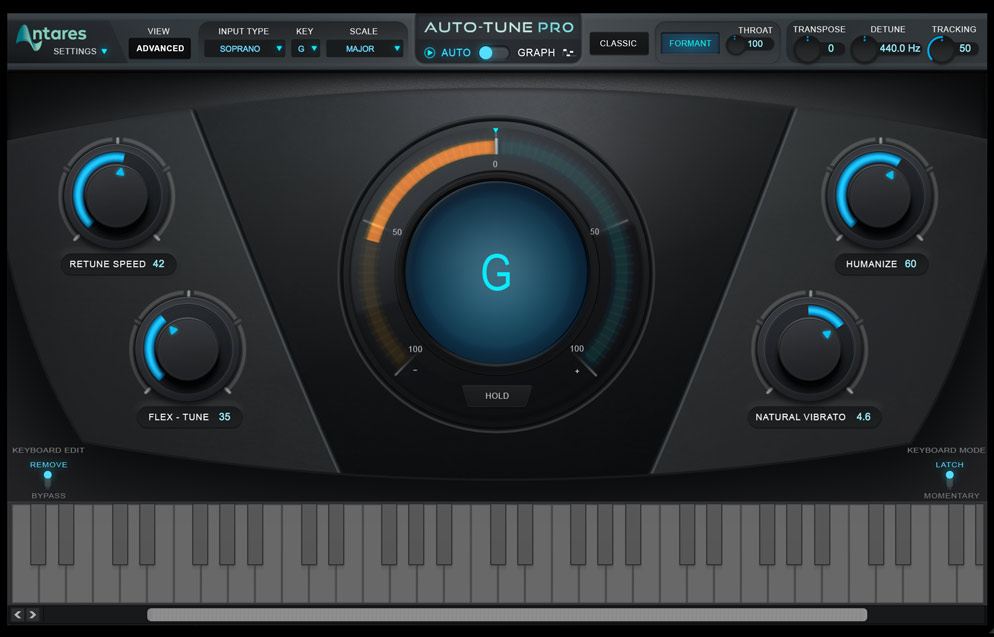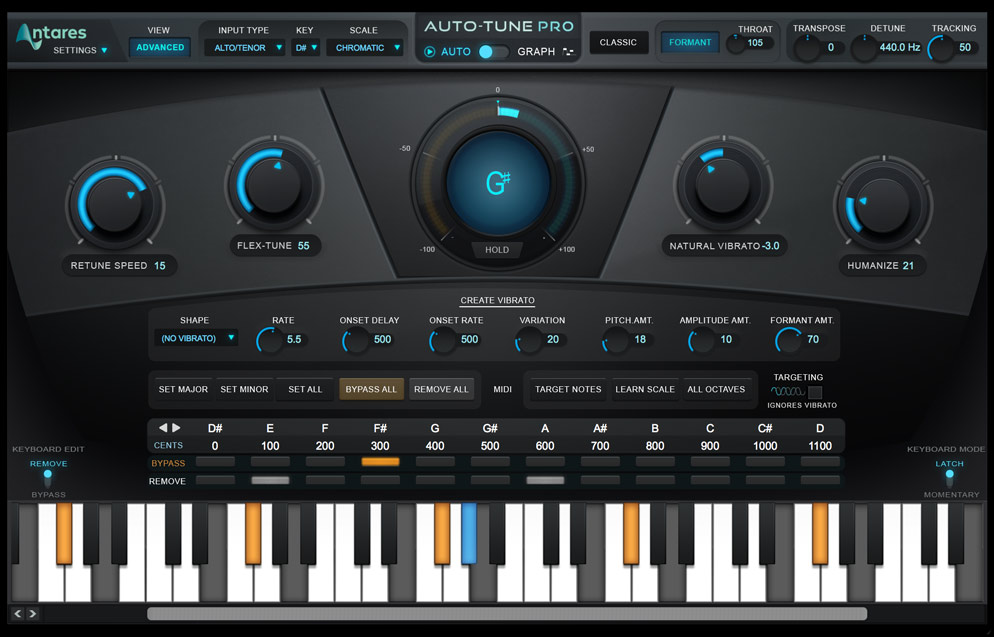 Auto Mode now includes two unique screen views: Basic View which gives you quick and easy access to the core features of Auto Mode, and Advanced View which unlocks the powerful MIDI, scale editing and vibrato features.
The Graph Mode interface has been redesigned from the ground up. In addition to a much larger Main Graph, the new Graph Mode features greater zoom resolution, user assignable zoom presets, and controls reconfigured to optimize workflow efficiency.
Classic Mode
Classic Mode is the much-requested return of the celebrated "Auto-Tune 5 sound."
As they have added new features to Auto-Tune (such as Formant Correction, Throat Modeling, and Flex-Tune) the Auto-Tune algorithm has also evolved, and it's undergone subtle changes, with each Auto-Tune version having its own slightly different character.
Over the years, the sound of Auto-Tune 5 has developed something of a cult following among musicians, audio engineers and producers, perhaps due in part to its use on many iconic pop recordings. Due to popular demand, they have made the Auto-Tune 5 sound available in Auto-Tune Pro via the new Classic Mode.
Auto-Key: Automatic Key And Scale Detection
Auto-Key is a brand new plug-in, included with your Auto-Tune Pro purchase, which automatically detects the key and scale of your music and sends that information to one or more instances of Auto-Tune Pro. If you already know the key and scale of your tracks, you may also find Auto-Key useful for simultaneously setting the Key and Scale parameters of multiple instances of Auto-Tune Pro from a single location.
ARA: Audio Random Access
Auto-Tune Pro now supports ARA (Audio Random Access.) ARA is a technology that allows for closer integration and exchange of information between audio plug-ins and host applications (digital audio workstations). When used with ARA-compatible DAWs such as Studio One from PreSonus, it's now possible to edit in Auto-Tune Pro's Graph Mode without first playing through the selection to track the audio into Auto-Tune.
MIDI Parameter Control
Many of Auto-Tune Pro's key parameters can now be controlled in real time with a MIDI controller, including Retune Speed, Flex-Tune, Humanize, Throat Length and all of the Vibrato functions. You can assign the parameters to the controls on your MIDI device, and perform dramatic effects in real time on stage or in the studio.
Price And Availablity
Auto-Tune Pro will be available in Q1 2018, for $399. Purchases of Auto-Tune 8 on or after January 1st, 2018, will receive a free upgrade to Auto-Tune Pro. Upgrade packages are available for current registered users.
Antares At AMM 2018
If you are NAMM 2018 and would like to check out the new Auto-Tune Pro then make your way to booth 14001.