Welcome to the first edition of the Sunday Sound Effects Round Up of 2018. In this edition, we take a look at new libraries from Sonic Salute, HISSandaROAR, SoundBits, and Articulated as well as a new version of the Reaktor instrument Whoosh from Tonstrum and updates to the Pro Sound Effects General Libraries.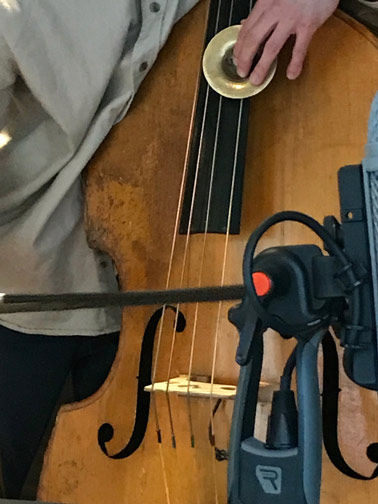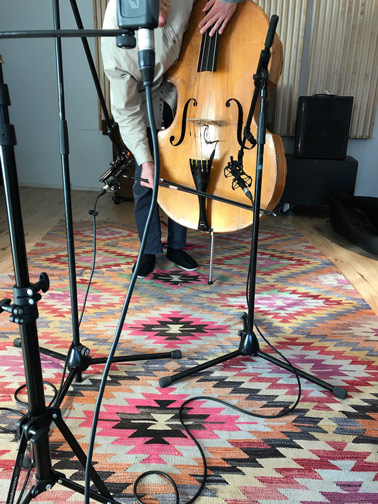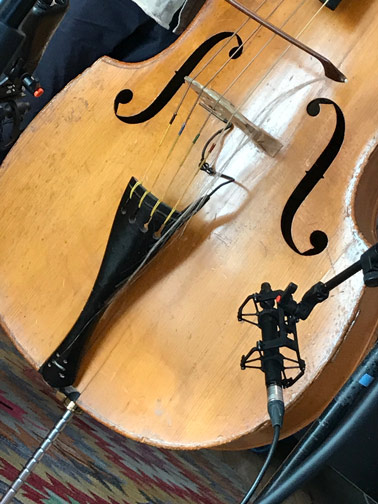 Double Bass Sfx From Sonic Salute
Mikkel Nielsen has been in touch to tell me about the latest library from Sonic Salute - Double Bass sfx. This set of sounds includes weird low double bass bow strokes, stabs, vibrating strings, drones, harsh harmonics, string scrapes, bow stroke voices, and bright violin tones and screams. All double bass sounds have been recorded at 192K/24 bit, with a stereo pair of close up Sanken CO100K microphones, and a second stereo pair of Sennheiser MKH 8020 microphones, capturing low end and room. All violin sounds have been recorded with a single Sanken CO100K microphone.
The ultra-high frequency range of the Sanken microphones enables you to either extreme time stretch/time compress, or pitch up and down the Sanken files and discover a whole new world of sounds, without adding nasty degenerating artifacts or muffling the sound. Mikkel told me...
Recordings these sounds was a pure blast. The amount of versatile organic material in the set, is great. The bass instrument has been played in a very innovative way, using both regular bow on strings and bass body, but also finger cymbals attached specific places, for a vibrating ring or rattle noise, creating some really other-worldly sound effects, and almost voice like patterns. While the double bass material produces a massive low end without any further processing, the violin recordings really benefit from being stretched and pitched. This makes all the non audible bright sounds captured by the Sanken microphones come through.
The sound design potential of this library is huge, and the idea that I can push the time stretch or pitch, especially with the Sanken tracks opens up huge opportunities. The file names help t give a sense of what is to come when you play the file with names like "Sad Voice Stroke" and "Psycho Like Strokes".
82×2 stereo tracks,
15 mono tracks,
192K/24 bit,
6 GB in 3 zip files.
All files metadata tagged.
Price $75 plus tax
HissandaROAR Release Microtonal Metal
The recordings for Microtonal Metal were made with four waterphones, in the centre is an authentic MegaBass Waterphone designed by Richard Waters (RIP) and built and tuned for HISSandaROAR by Brooks Hubbert. On the right is an Ocean Harp and on the left two models of the AquaSonics clones....
Thanks to its evolution & subsequent quality of construction, the MegaBass model is sonically in a league of its own. But each model has its own unique character, so we've bowed, struck & friction malleted them all and captured transmissions using two Barcus Berry contact mics and an ORTF MKH8040 pair of mics....
Tim has created this library to be incredibly fruitful for granular processing, while also containing many elements invaluable for developing uniquely characterful stings, textures, semi-musical and/or atonal components, transitions or abstract, magical or fantasy material…
16.8GB
139 x stereo .WAV files
24bit 96kHz
Price $129
Tonstrum Release Whoosh V1.5
Whoosh is a Native Instruments Reaktor Instrument and is now a Tonstrum product and it also now supports the NI Reaktor player too with the release of Whoosh V1.5.
Whoosh Features:
Built for the freely available REAKTOR PLAYER: WHOOSH is a third-party instruments that has been made specifically for REAKTOR PLAYER. It needs to be installed with Native Access. WHOOSH runs with the REAKTOR PLAYER & the full version of REAKTOR.
Completely overhauled sample management: WHOOSH now offers 4 user banks for the source and impact samplers. You can now directly Drag & Drop your custom samples from your browser on to the interface. Differently compiled user banks can be saved with the WHOOSH user presets.
Huge and expanded factory SFX library: WHOOSH now comes with over 390 expressive sound effects: Racing cars, flame throwers, explosions, wild animals and a lot more!
NKS support and updated MIDI functionality: WHOOSH now fully supports Native Instruments NKS format. Controlling WHOOSH from any Midi controller with it´s new Midi Setup function is a breeze.
Overhauled synchronization features: WHOOSH can now precisely be synced to timecode (24 / 25 FPS), SecMsec and the hosts Beat Sync.
Complex and but intuitive to use sound design engine: 4 Grain / Loop Samplers, 4 Impact Samplers, Wave Mixer, Doppler Engine and Post Effects
Real time control your whoosh SFX: In Manual mode you can manually perform the powerful WHOOSH engine in realtime.
Randomization features: All samplers feature a flexible randomization function.
Comes with 100 Presets:100 diverse presets feature all styles of SFX that can be achieved through the powerful WHOOSH engine.
Whoosh is built to be a true sound design instrument and enables you to create whoosh and pass-by effects. It has been created to enable you to design sounds varying from whistling wind whooshes to air ripping engine pass-bys or completely over the top granular sci-fi effects. The included doppler effects engine was designed from the ground up to physical model the acoustic phenomena of an object that approaches, passes and recedes from an observer.
The individual playback engines, the source mixer and doppler engine can be manipulated in synchronized connection to each other. This makes it possible to playback the desired sound effect at different durations while remaining everything in perfect sync. Whoosh comes with an extensive onboard sample library licensed from leading sound effect recordists. It includes categories like wind, fire, racing car, jets, metal, water, wild animal and explosion effects.
Tilman Hahn has told me that Whoosh has been used by top sound designer Steven Ticknor on Columbia Pictures and Marvel Studios Spider-Man: Homecoming or by audio director Nicholas Duveau for Ubisoft's Game For Honor.
For use with Free Reaktor 6.2.0 Player or Full version Reaktor 6.2.0
Download Size: 157 MB
Over 390 Samples
Version: 1.5
Price $99
SoundBits Release Open & Close 2
Saro from SoundBits has released part 2 of the "Open & Close" sound effects library. Open & Close 2 brings you even more versatile sounds of various things that can be opened and/or closed. Obviously, there are several doors, hatches and drawers again but also lots of other opening and closing sound effects that should come in handy in your everyday sound design work, most with several variations. You can use the sounds as they are or use them for intense sound design. All sounds have been cleaned, edited and filled with BWF-Metadata for instant use in your projects.
Number of files: 850 Files
Quality: 96kHz / 24bit / Stereo
Total Size: 1,99 GB
Price: 40 Euros plus taxes
Articulated Sound Libraries Release Rustle Tones
Articulated want to show off the result of several months investigation in the realm of rustling matters: Fragile and delicate elements in motion producing soft crackling and rubbing sounds.

Rustle Tones is designed to be a toolkit to create presence, reality, movement, textures and silences.
Light breeze and heavy wind gusts were recorded on many locations: in forests, near shrubs, tall grass, corn fields, and in streets. Leaves were captured fluttering on branches but also whirling and dancing on the ground. Leaves of all shapes, and various materials such as plastic, paper, fabric, dirt were recorded. All of which through various interactions such as shuffle, shake, rub, brush, hit, fiddle, whip, and whoosh.
Windy foliage in trees
leaves dancing on the ground
plants interactions & movements
shuffling, shaking, brushing, rubbing, hitting, swooshing
all kinds of leaves shape and many types of vegetation such as grass, broadleaf branch, reeds, maple twigs, bamboos, needles, dry leaves, twigs, straws
additional texture that can help extend the sonic palette of rustling noises such as plastics, papers, metals, glass, pebbles, dirt, fabric, leather
Bit depth: 24 Bits
Sample rate: 96 KHz
Duration: Over 3 hours
Over 400 Sounds
216 Files
Price: $59
Pro Sound Effects Release 2018 Editions of Their Hybrid and Master Libraries
Pro Sound Effects has released the latest editions of their Hybrid Library 2018 and Master Library 2018. These General Libraries are designed to give media creators access to a comprehensive, core selection of world-class sounds.
New features include access to the year's freshest sound effects, additional credit to customize the library as needed with current or future releases, as well as search software update for instant workflow integration.
The Hybrid Library features more than 63,000 sounds. That's 350GB of creative fuel recorded by world-class professionals to bring any project to life.
The Master Library features over 200,000 sounds. That's a 2.4TB creative sonic palette recorded by world-class professionals to bring your next project to life