Earlier this year pictures and tweets started to appear on my social media feeds covering the upgrade on Halo's Studio One at their Noel Street site to Dolby Atmos in just six weeks and I thought this would be a story the Pro Tools Expert community would be interested in.
Background
Halo's facilities include three grading suites, six 5.1 television mix rooms and three film stages for mixing and mastering feature films. Towards the end of 2011, they acquired the lease of 25 Noel Street, Soho, which included a dubbing stage, Studio One. The 105 square metre audio theatre is one of only three cinema-scale audio mix rooms in central London and has been a popular mix stage for years. halo's Head of Film, David Turner explains…
David: Many critically acclaimed films have been mixed in Studio One such as Les Misérables, The Danish Girl, Paddington and Nocturnal Animals. We also specialise in documentary and music features such as Made of Stone: Stone Roses, One More Time with Feeling, Supersonic, Stones in Cuba.
PTE: Although Halo made a number of changes to Studio One when they acquired 25 Noel Street they chose not to implement any large-scale enhancements until a further 10-year lease could be established. So I asked John Rogerson Halo's CEO, what made him decide to upgrade Studio 1 at Noel Street as it seems a significant investment for a 10-year lease?
John: We knew we had to upgrade the studio as our clients were asking for Atmos mixes more often, however, we were coming to the end of the lease on the building at Noel Street. In order to negotiate as good a deal as possible on a new lease we had to be prepared to walk away from the building, that meant holding out until the lease was agreed before starting the work on the Atmos studio. From a commercial point of view spending money on Studio 1 was important, it has always been a key part of our service offering and with these upgrades, we have widened our client base even wider.
PTE: David Turner Head of Film at Halo agrees…
David: The decision to equip Studio One with Dolby Atmos was really a no-brainer. Dolby Atmos will put us back in the running for the bigger film mixes posting in the UK. Most of the 'tent-pole' US studio productions now want Atmos delivery for both cinema and home entrainment release. Mixing for theatrical trailers and commercials is going this route too. The installation also gives us the ability to work in IMAX 6.0 and 12.0, so we can do in-house giant screen immersive mixing for our clients too.
PTE: Richard Addis is the Head of Audio Operations at Halo and I had read that you said: "We were conscious client confidence could easily be dented if we changed all the equipment wholesale". How did you arrive at the decision of what to upgrade and what to leave alone?
Richard: We had JBL speakers in the studio previously, so it was an easy decision to bring the system up to date using JBL once again.
In terms of surround and ceiling speakers for Dolby Atmos, we didn't really have the option to keep any of the old units. We worked closely with James Seddon at Dolby, Chris Walls of Level Acoustic Design, and Ben Todd at Sound Technology to specify the best possible configuration for the room and the budget.
We could have left the screen channels alone (we had 4670Ds with BMS drivers in the horns), which everyone was extremely happy with. Sound Technology went out of their way to provide us with demo units of all of the JBL speakers and Crown DCiN amplifiers to do A/B comparison tests in-situ, prior to the old studio being decommissioned, including the 3732T units for the screen channels. This was what really swayed our decision and gave us the confidence to make the switch and upgrade everything.
We used BLU link distribution to the amps, meaning significantly less cabling is required as all audio is distributed over a single cat-6 ring. Even with the additional cabling and networks for redundancy, the installation has been significantly streamlined in comparison to how it used to be. Our final speaker install was 46 speakers all of which are JBL models, including 3732Ts for the screen channels, 4642As for the screen low-frequency effects, 4645Cs for the surround low-frequency effects, a mixture of 9300s, 9310s and 9350s for the side and rear surrounds, and AC18s and AC28s for the top surrounds.
PTE: But what about the Neve DFC, did you consider replacing that as well as part of the upgrade for Studio One?
Richard: We spoke to countless mixers and various other studios both at home and in the US regarding a switch to an Avid S6. The mixers who regularly work with us were split down the middle, regarding the S6 vs the DFC, and interestingly not many of them were sat on the fence; it was either strongly for or strongly against. The demand for S6 is definitely there and we may yet go down the hybrid S6 route.
PTE: You mentioned worked closely with James Seddon at Dolby, Chris Walls of Level Acoustic Design, and Ben Todd at Sound Technology, who are Harman's UK distributor, who decided on the different contractors, was there one overall contractor co-ordinating the project?
Richard: Daniel Napier, our own Technical Director oversaw the upgrade. He has a vast amount of experience in project-managing builds of even greater scale and complexity than this one, so we were in safe hands. Also having one of us manage the job meant we could act (and react) very quickly, which was essential with the tight project schedule. We have a long standing relationship with Chris Walls at Level Acoustic Design from our recent builds, including Studio 5, and Jigsaw24 is our preferred supplier for all audio equipment and infrastructure. We have worked with them extensively in the past, and really understand what they are selling. We didn't just give them a shopping list to blindly fulfil, they work closely with us to ensure all systems and specifications fully meet the brief.
PTE: Talking of the tight schedule, how was the 6-week project duration arrived at?
Richard: Downtime means the double whammy of project expense, AND lost revenue, so Dan's MO was to get the job done as quickly as possible. This meant that the plans had to be watertight. We had been ruminating on the project for a couple of years, so once we pressed the Go button, we were able to move very swiftly to flesh out the concepts we'd been working on up to then. There was an opportune gap in the schedule in December and January, so we went for it, although I think we only really signed off that we were going ahead in late October or early November… I'm a firm believer that you do your best work to a deadline!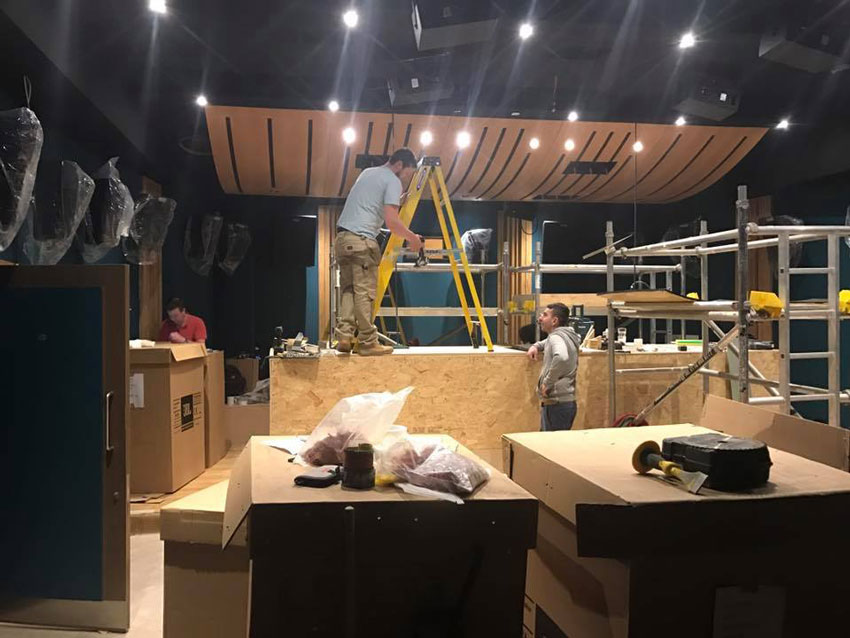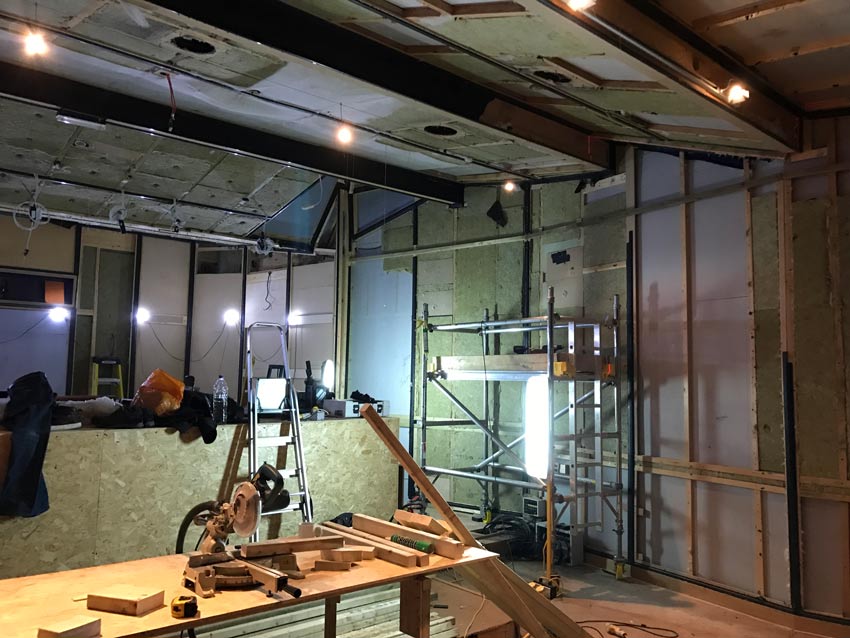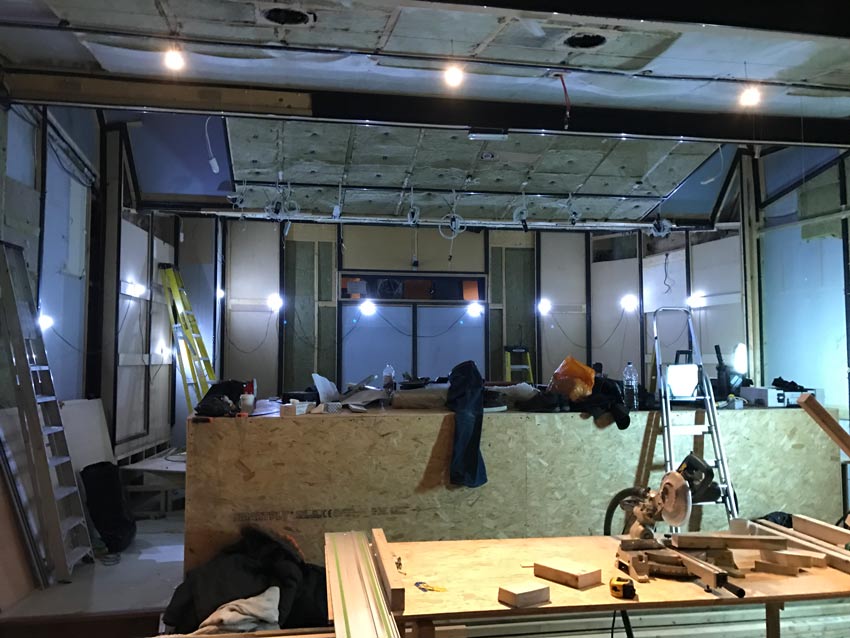 PTE: One of the contractors was Level Acoustic Design, who handled the acoustic design of Studio One upgrade; working closely with Dolby to ensure the room met the necessary acoustic specifications. Level Acoustic Design had just 3 of those 6 weeks to carry out the construction before the start of the technical installation and commissioning. So I asked Managing Director Chris Walls with only 3 weeks to undertake the structural and acoustic upgrades, presumably you had a carefully crafted plan. Did it all go to plan or were there any surprise that added to the challenge of a tight schedule?
Chris: The project threw up a few challenges, the biggest being the timescale of the works. Project programmes have to be taken with a pinch of salt! Some tasks overran a little, some were completed slightly early. I think the benefit of a carefully crafted plan is having an overview of all the tasks so that when something diverges from the plan you can work out how best to rectify the situation. Not everything happened on the day it was planned but because the handover date was so ingrained in everyone's mind they all worked to bring it together on time.
The profile of the studio ceiling also made it incredibly difficult to optimise the position of the 36 JBL surround speakers while maintaining the 6.8m-wide screen due to the steep changes in angle and the areas with limited height, both of which caused potential clashes with the projection beam. In the end, we got around the problems by making some minor structural alterations which enabled us to get the speakers in the ideal locations while retaining the huge screen so it was a good result.
PTE: How did you co-ordinate with the other contractors because presumably there was more than one thing going on at the same time?
Chris: We had carpenters, AC installers, electricians and Halo's technical installers on site so there were a few entities to coordinate, but their respective works were clearly defined during design and the order of works was established in advance. Daniel Napier actually took care of the coordination on site because Halo were using their own AC, electrical and tech install teams, but the time we put into planning during the design certainly helped things go smoothly. We used Westwood Joinery for the acoustic fit-out works, they have a huge amount of experience working in these environments which makes co-ordination much easier, especially because they know how important flexibility is in these projects and are used to working around the little problems that invariably crop up along the way. Westwood's Jerry Bennet and I put together a fairly thorough program for the fit-out works and Daniel Napier integrated that into his overall project programme.
PTE: What were the challenges of working in such a tight space?
Chris: Space was definitely at a premium – the console remained in the room throughout and because of the height of the studio the guys were working from large towers most of the time, so everyone on site had to be very accommodating of each other. It also meant we couldn't flood the site with labour to get things done quicker; there were only so many people that could practically be on site.
PTE: David Turner Head of Film at Halo continues…
David: The studio has had a complete cosmetic overhaul, with new fixtures and furnishings throughout. We placed particular emphasis on being able to offer comfort, functionality and an optimised listening experience for all. We've paid special attention to the director/producer seating arrangement, ensuring they are located in the best possible listening position with the most comfortable chairs.
PTE: Richard, were you able to keep using the other rooms in Noel Street or was it a complete or partial shutdown of this site for you?
Richard: The rest of the building remained operational throughout, with any major construction or noise and vibration generating work taking place pre 9 am or at the weekend. There was a period of clients walking through something of a building site, however, everyone was incredibly good natured, and there was a great buzz about the place for the whole time. If anything, doing the works in plain view got everyone on board and excited for the finished studio, as opposed to having it hidden away out of sight.
PTE: Chris, how did you mitigate disturbance to the rest of the Halo facility and their neighbours?
Chris: Simple things like timing deliveries and works on the structure around session start and finish times and avoiding busy times in reception. Some degree of disturbance was inevitable but I like to think people in the building were pretty forgiving because of what the new studio would offer the business.
PTE: Richard, were there any surprises during the upgrade?
Richard: Not really - despite the short timescale, we were actually ahead of schedule for the majority of the build; the fixtures and finishing were actually the only aspects which took a bit longer, and that was mainly due to lead times on some of the furniture which was out of our hands.
PTE: Chris, did the acoustics measure out as you expected or did you need to make some tweaks to bring it into spec?
Chris: My involvement with Studio 1 goes back to 2009 when I redesigned the acoustic treatment to rectify some long-standing low-frequency problems and gain Dolby Premier certification for the studio. So I knew the acoustic performance of the room was good, it just needed a gentle tweak to optimise the space for Atmos. When we carried out our pre-completion testing everything was as predicted so we didn't need to do any fine-tuning. Given the deadline that was great news!
PTE: Richard, in some of the pictures I have noticed an Avid S3 in the corner, what part does that play in the workflow of Studio 1?
Richard: It's incredibly common practice now to pre-mix in the box elsewhere, and then final in Studio 1 on the DFC; the DFC then becomes a whole load of trim faders, some dynamics and EQ. To give you some control over the session, we have a separate control surface. For this purpose, the S3 comes and goes (it's either that or a 24 fader D-Command ES), but the reasoning is the same. The S3 really is a fantastic intermediate option between the Artist Mix and the D-Command (or S6), and the small form factor is far more appealing than the comparatively bulky D-Command which wipes out half of the DFC surface when it's in use. You may think this is a case for going down the S6 route - and you would probably be right… it's something we're investigating.
PTE: Now you have been using it for a couple of months, have you had any regrets or needed to make some tweaks?
Richard: We've had Dolby back a couple of times to do some tweaks to the alignment now that the speakers and amps have been broken in a bit, so to speak, but they have only been minor adjustments. Everyone internally is very happy with the result, and feedback from clients and mixers has been fantastic also.
PTE: Halo's head of film David Turner added…
David: The enhancements we have made in Studio 1 really couldn't have come at a better time. Not only are we now ready to service forthcoming Dolby Atmos releases with the most technically up-to-date installation in town, but the improvements to the aesthetics and seating arrangements have significantly advanced the overall client experience.
PTE: Thanks to Richard, John, David, and Chris for taking the time to be a part of this case study.