We have got wind of what we think is a really clever idea from a company called Frozen Fish Design who have developed ways of fitting Avid S6 modules into digital consoles like the Euphonix System 5 and the Neve DFC. This could give large format console owners the opportunity to have the best of both worlds.
Skywalker Sound
Skywalker Sound, the audio post-production division of George Lucas' Lucas Digital motion picture group, has already ordered 12 of Frozen Fish Design's Avid Technology S6 / AMS Neve Ltd DFC baskets.
Frozen Fish Design then decided to look at integrating S6 modules into the Euphonix S5 and have already visited NFTS at Beaconsfield in the UK to show senior supervising engineer Jérémy Rodeschini and tutor Guy Hake what is possible.
Pinewood Studios
The Frozen Fish Design team have also been to Pinewood Group Limited Post Production to Technical Director Paul Govey, Simon Caton from Avid Technology and re-recording mixer Niv Adiri (Neve) to demonstrate their prototype Euphonix S5 to Avid S6 integration system.
Want To Know More?
You can find out more on the Frozen Fish Design Mixing Console Customisation pages on their website including features like...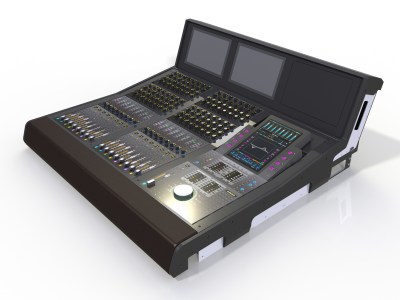 Hybrid Console Integration System
Avid S6 Module Enclosure
Mouse & Keyboard Platform
Accessory Shelf
Custom Desk Extensions
Screen Slider
Static Screen Mount
Avid S6 Legs and support Frame
Avid S6 Mouse & Keyboard panel
Avid S6 Xkey Midi Keyboard panel
Avid S6 Custom Desk Extensions