In this article, the Pro Tools Expert team share their current Pro Tools control surface solutions and reasons behind their choices. The Pro Tools Expert team also share their control surface past experiences of previous control surfaces they have used and owned.
For the past 13 years, I have exclusively used control surfaces when working with Pro Tools. I started using Pro Tools in with the Digidesign Control|24, through to Digi 002 Factory, M-Audio Project Mix, Digi 003 Factory then finally settling on my current Avid C|24 control surface. The main reason why I use a control surface with Pro Tools is speed of workflow. I find it slow and unintuitive controlling Pro Tools with only a mouse and keyboard. Control surfaces enable me to run Pro Tools session fast and I find tracking and mix sessions much more engaging.
Watch the video tutorial to learn how I use the Avid C|24 with Pro Tools when working in music production.
Avid Dock - Mike Thornton
It is no secret that I have tried a number of control surfaces over the years including the Command 8 and an Artist Control and they have all been pushed aside to gather dust and then eventually sold. The DNA Music Labs Hot Key Matrix has been the longest survivor so far but it looks as though I might have found my solution in the Avid Pro Tools Dock with my iPad using Pro Tools Control.
Add to that Keyboard Maestro macro application and I have already set up a Pro Tools Expert Podcast page as my first User Page of soft keys on the Dock. I will unpack this in more detail in the new year but I am finding I am using the Pro Tools Dock more and more.
For example for Record Enable on my Bounce Track, using the single fader for occasional mixing, although I am still very much a keyboard and mouse guy having grown up with Pro Tools long before there were any control surfaces to use.
The other part of the Dock that is finding a real home in my workflow is the rotary encoders each side of the iPad. I now have the Pro Tools Control app in Channel mode and then selecting the plugins and then controlling the plugins from the rotary encoders rather than the mouse.
For me, the tactile feedback from the buttons on the Dock combined with the display information from the iPad is proving to be a winning combination.
In this free video tutorial from Avid you can learn how to use the EuControl software to program a range of soft keys on the Pro Tools Control on the iPad and the Pro Tools Dock and including the touch strips and the jog wheel.
Slate Raven MTi (Mk1) - James Ivey
Since returning to Pro Tools many moons ago (yes believe it or not I was a MOTU Digital Performer user back in the day) I think I have tried, owned and sold on most of the desktop based Digidesign / Avid controllers. I started off with the Command 8, then got my grubby mitts on an Artist Control and Artist Mix pairing and now I'm using the Slate Raven MTi (MK1).
I'm the first to admit, I love my toys - sorry I mean gear and you might think that I have just ended up with the latest "must have" gadget, far from it. When Slate first announced the Raven I was genuinely excited about the idea of having a touch-screen that actually worked with a DAW. As one of the first Raven adopters in the UK I really wanted to discover every new touch workflow that could benefit me.
Firstly, the 27-inch screen is fantastic quality. The image is very clear and bright. This is very handy as I'm not just running Pro Tools on my machines. Yes, I said machines, I'll come back to that shortly...
The Raven software overlay (which is how it interacts with Pro Tools (or other DAW software) is very easy to use and if you are open to it, you soon forget that you are not touching a fader top but dragging faders and controls around a screen. There are also many other benefits to this like being able to move your hand or finger away from the fader you are controlling to another part of the screen to pick up other faders using multi-touch.
It did take me a little while to get used to editing plug-ins on the Raven but with so many developers making their software multi-touch friendly this is getting easier and easier.
One of the best features to come as part of the Raven workflow is the Batch Commander (available as a stand-alone app). The Batch Commander allows users to create configurable buttons on the Raven to perform tasks that would normally take many keystrokes making repetitive tasks a doddle. I'm not the most creative when it comes to creating my own custom functions nor am I the most demanding but with buttons like "Gone Wrong" and "Back To The Top" I am working faster than ever - which is only a good thing.
So as I said earlier, the Raven is working with multiple machines in my studio as I also have the Raven working perfectly with the iZ Technology RADAR (Raven on RADAR if you will). If I am honest I think the Raven works even better on the Windows platform (which the RADAR does) than the Mac OS. It just feels faster and smoother which is impressive as it is damn fine on a Mac too.
There are currently three versions of the Raven. For the well healed of you check out the Raven MTx. The rest of us should be very happy with either the original metal case MTi or the new MTi II which is event better value.
Presonus FaderPort 8 And Softube Console 1 - Russ Hughes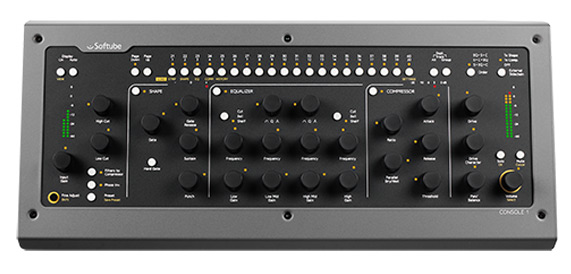 I've never been a huge fan of control surfaces for a number of reasons, in most cases some of the implementation has been sketchy which means I end up back on the mouse and the keyboard - which to my mind is self-defeating.
However, the Presonus Faderport 8 has changed my thinking, for a number of reasons. Firstly I use both Pro Tools and Studio One - so need a surface that can cover both bases. In native mode with Studio One the implementation is second to none, in fact it is perhaps the most tightly integrated control surface without invested in a fully loaded pro surface like an Avid S6 et al. Secondly, it also supports HUI with good implementation so I can also use it for Pro Tools.
At less than $500 street it is a fantastic piece of kit and has changed my mind about using surfaces. Faderport 8 review
I must however pay special mention to my Softube Console 1 too, although not strictly a Control Surface I also use that alongside the Faderport 8 to run the amazing plugins you can use with it. The Summit Grand Channel deserves special mention. For me it's the closest thing to having an analogue board without all the downsides of space, heat, running and surface costs. Console 1 review.
Avid D-Command with X-Mon - Alan Sallabank
The 8-fader D-Command that I currently have at 8dB Sound is in reality a stop-gap. When I moved studios earlier this year, I gained a voice recording area, so needed some form of talkback. Until then I had been using a combination of an Avid Artist Control, the Avid Pro Tools Control app on an iPad and Neyrinck V-Control on an Android Tablet. I'm able to rig talkback and 7.1 monitoring control through my RME Fireface802, but talkback is a bit clunky through the RME, so I use the X-Mon.
What I love - I've always been a physical faders type of person. I can exact better fine control over parameters using knobs and faders than a mouse or touch-screen. The D-Command is well laid out, borrowing heavily from it's bigger sibling - the D-Control. Common automation controls are fully available and easily accessible - there is an absence of having to hold a button down with one hand while pressing another. Little things like that make a huge difference when you're in a complex mix
What I hate - Neither the D-Command or D-Control play nicely with either HUI based controllers or Eucon controllers, to the extent that as long as I have the D-Command enabled, I can't use Eucon at all. HUI control surfaces lose their metering when used simultaneously, and on the 8-fader D-Command, I cannot bank my HUI surfaces independently of the D-Command. It's all a bit of a mess. Compared to the D-Control the D-Command is a little over cut down - you have less physical knobs, especially in the AFU section, which means that controls don't map as well.
What I'd like Santa to bring me this Xmas? An Avid S3 with Pro Tools Dock, and an updated Source Talkback plugin for AAX64 Windows from Source Elements.
Keyboard And Mouse - Julian Rodgers
I was going to post an image of my mouse and keyboard with my "Mr Grumpy" mug in shot. I have no control surface of my own but then again I don't see my work room at home as my "main" studio. I could choose to feature a studio belonging to my employers but that's not really mine. It might appear that I'm the person on the team who is least invested in control surfaces but I think I might be one of the more convinced members of the team when it comes to control surfaces.
I have also written up some of my thoughts on what makes a successful control surface and can read these in my article - What Makes A Successful Control Surface.
I have used, and importantly taught the use of several control surfaces, from hybrids like the SSL Matrix to dedicated controllers like the D-Control and they all have to compete with the mouse and keyboard and In my experience a control surface has to be really excellent to tempt typical users away from their beloved mice and keyboards.