In Podcast 241 we asked if you would send in articles and pictures describing your own studio builds and to highlight the choices and decisions you made along the way so that the whole community could benefit from your idea, experiences and solutions. So far we have featured Bertrand Grichting's and Georges Majerus' studio builds. In this article Matt Weston shares his his experiences. Over to you Matt...
After about ten years of recording bands in unfinished basements (first my parents', then my own), I was really starting to want some walls. I thought to myself, if I could just get the walls insulated this year, maybe I could get pay for the drywall next year, and do the floors the year after. So I started buying up Roxul Safe and Sound insulation, two packages at a time as that is all that can fit in my Honda Civic, and bit by bit, insulating the walls and ceiling in the basement of my raised ranch home. Because it was such a long process and I didn't want bare insulation showing so I bought vapour barrier and stapled it up. I found out later this was a big mistake on the exterior walls, as two layers of vapour barrier can trap moisture and lead to mould. You may be wondering why I insulated the exterior walls at all - weren't they already done? Well yes, but there was a roughed in ledge halfway up all the exterior walls in the basement. Rather than leaving this open and hollow to potentially ring, I decided to fill it up.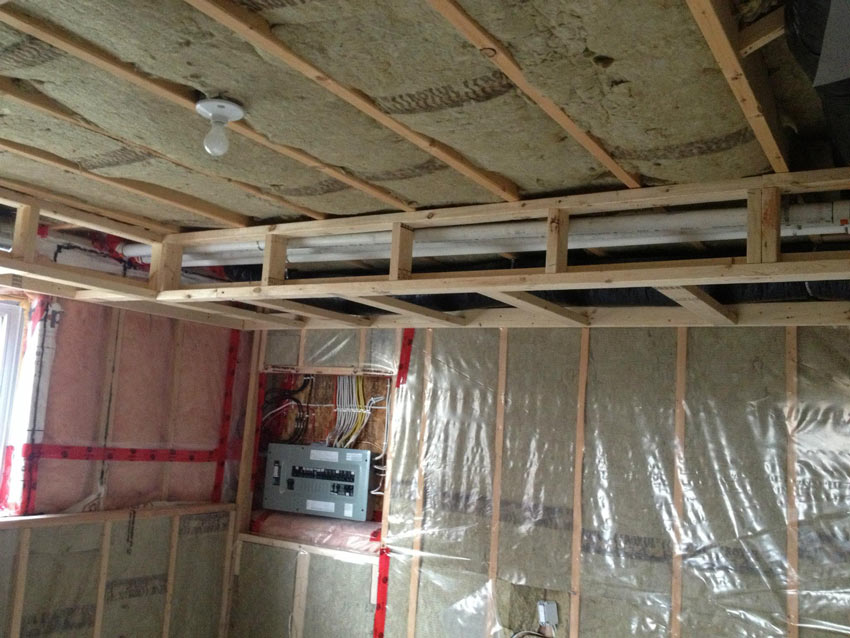 Lets Just Get It Done In One Go
Well, wouldn't you know it, after it started looking more like a bunch of rooms and less like an unfinished basement, I got my hopes up. Wouldn't it be great to get the drywall up too? Paint it and make it look nice? And if it's going to be a construction zone, maybe it would be a good idea not to prolong it anymore than necessary and get the floors done too! So a trip to the bank was made and a line of credit was opened. Contractors were hired, redundant vapour barriers were cut open and work began.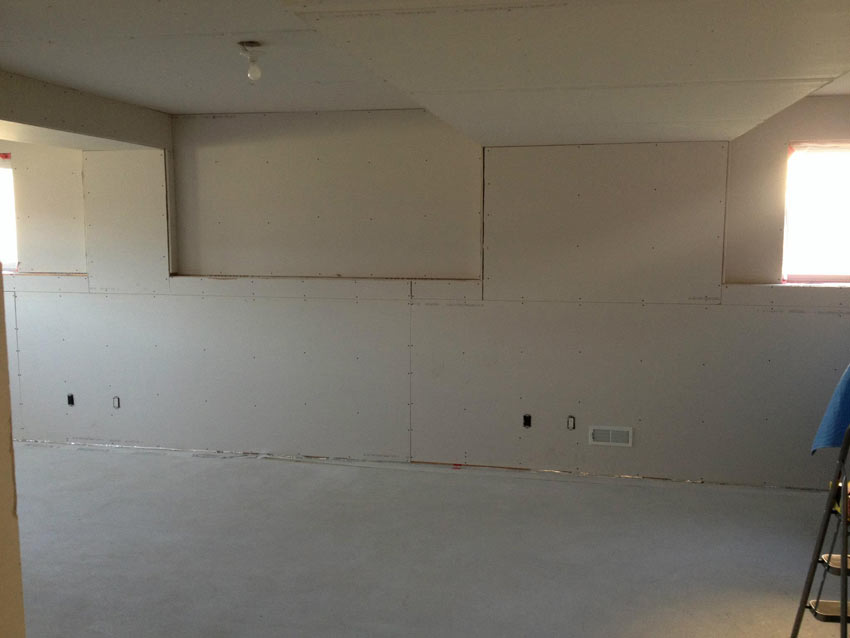 Drywall was first to go in after the Roxul insulation. We used 5/8 inch for a little extra isolation over the normal 1/2 inch. Resilient channel was used on the ceiling to help provide comfort to anyone upstairs while the drums are going. It has done a good job in the end, though there is one spot in the basement with a distinct tone to it. The ceiling, after all, becomes almost like a giant membrane on a drum, resonating with what is going on. Drywall was also a scary experience for me. After the control room was finished, I went in and clapped, only to hear the most horrific room response I've ever heard in my life! But there was no going back at that point. Cable pass-throughs were made using 5 inch PVC pipe and caulked in and foam stuffers were made for each one as well.
Colour Scheme And Painting
I was a painter for quite awhile to help get me through university so I took that on with some colour choice help from my old painting boss. A three colour theme was used throughout the basement, with the main live room showcasing all three relatively equally, the vocal/amp room being the darkest (as it was going to double as my home theatre), and the control room being the lightest and brightest. Each room also has some nice big windows and the control room looks out into a farmer's field past my backyard. Like Russ, I'm a fan of natural light and the light colour in the control room helps the feel for me, while the dark colour in the vocal booth helps the vibe for artists in there.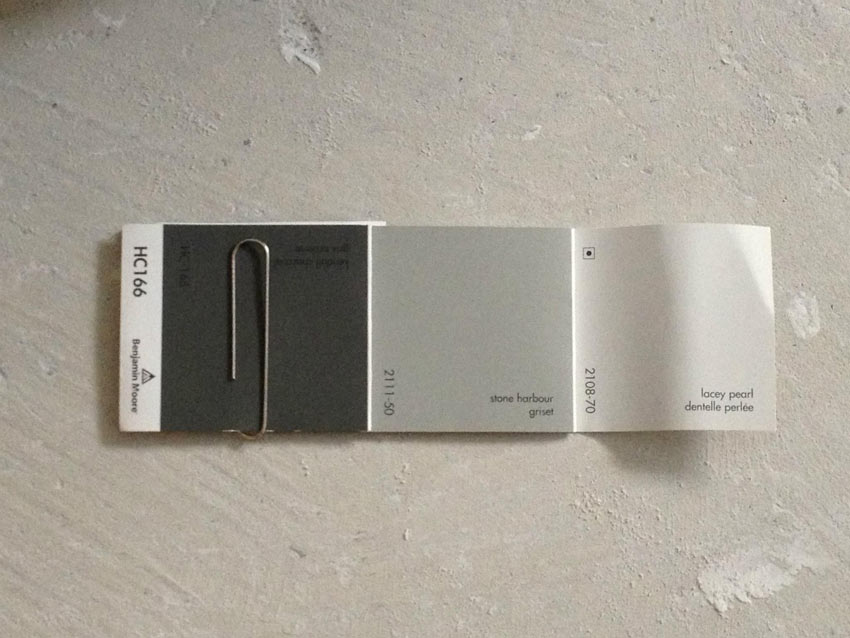 Floor
Flooring went in next. The best subfloor I could afford and then a nice laminate plank floor on top. Again, a light floor colour was chosen to give some visual brightness to the space, and a hard floor was chosen over carpet so that carpets could be added to soften things later if necessary.
Doors And Windows
Trim, doors, and the dreaded window came next. I skipped over an earlier part where a friend's construction-dad came over and cut through some load bearing studs in the control room wall. A couple of 2x10s were installed to take their place and a window frame was made. I bought some windowed exterior doors with internal blinds for isolation between the control room, vocal/amp room, and a little isolation spot under the stairs. I ordered two sheets of laminate glass (like the safety windshield of your car - two layers fused by a layer of plastic in the middle) and my contractor and I installed it, with much care taken to clean each pane as it was put up. Silica gel was hidden below some fabric panels in between each pane to help with any possible moisture issues.
Furniture And Acoustic Treatment
More painting and then the Sterling Modular Plan E arrived. I had been operating out of a 12U Gator Rack for years, and my desk was my parents' first kitchen table from the 60s. I wanted a more professional look to attract more professional clients. The Sterling Modular does not disappoint! Furniture (again from the 60s... couldn't afford to upgrade that just yet) was brought down and placed into the rooms. And then began acoustic treatment. I had hoped to build my own, but after a few months of the construction zone, and having difficulty finding a local supplier for rigid insulation, I decided to bite the bullet and order some pre-fabrication treatment from Primacoustic. Two 4x6 foot clouds were hung - one over the mix position and one over the drum kit with a 2x4 foot cloud hanging above the vocal position. Tri-corner bass traps were fitted in the control room, the vocal/amp room, and the live room. Diffusion Panels were put up behind the speakers and scatter blocks at the back of the control room for a poor man's diffuser.
All in all - the control room sounds good! The vocal room is dry enough when using a Vox Guard (like a Reflexion Filter), and the live room has a great reverb tail for drums. The live room is about 35 feet long and 10-14 feet wide depending on where you are standing in the room. The vocal/amp room is a reasonable 12x13 feet and the control room is 15.5x11 feet. The closet was turned into a machine room to store the Mac Pro and some mics and a linen closet in the hall stores the snare drums.
A couple years later and I couldn't be happier with the space. It's not perfect by any means. But I have enough isolation that I can track a 4 piece band with sightlines and without worry of having to redo the whole thing if one person messes up, even if one of those instruments is an acoustic guitar and another is a drum set! The rooms are evolving as well, with nice carpets, some great curtains (thanks Mom and Sis!), and of course, some lovely instruments and equipment.
This Could Be You?
If you would like to the chance to have your studio design published on Pro Tools Expert and to win an iLok3 prize bundle then please send in your article with hi-res image files via our Contact Us page. Please include details or your thought processes, why you chose what you chose, and what you would do differently if you did it again.