We've spent a lot of time during this studio build series talking about aspect like vision, planning and concepts but now we are moving onto construction.
The main aim of the physical construction was twofold;
To meet building regulation requirements for things such as safety, energy efficiency etc.
To meet acoustic requirements to keep sound out and keep sound in.
The Original Building
We started with a single story, pitched tile roof garage made of single skin brickwork and sitting on a 2' deep concrete slab which has a damp proof course (DPC).
In order to meet the requirements of the building regulations it was essential that the construction consisted of an air gap between the outside walls and the new construction. A timber frame was constructed as stud work in sections. These stand on an isolation barrier made up of a further DPC to stop any rising damp through the concrete floor.
The original building had a side door entrance and after some consideration we felt it wise to remove the door and brick up the gap with an additional DPC where the door threshold had sat.
In the roof space further joists were added to take the additional weight of the new plasterboard/skim ceiling. This also created quite a sizeable loft space that has been boarded for storage which is accessible via a loft hatch.
Once the wooden frame was complete then all stud walls were insulated with Xtratherm insulation material which is a rigid insulation system that also has a foil back to act as a moisture barrier. It also has excellent acoustic properties.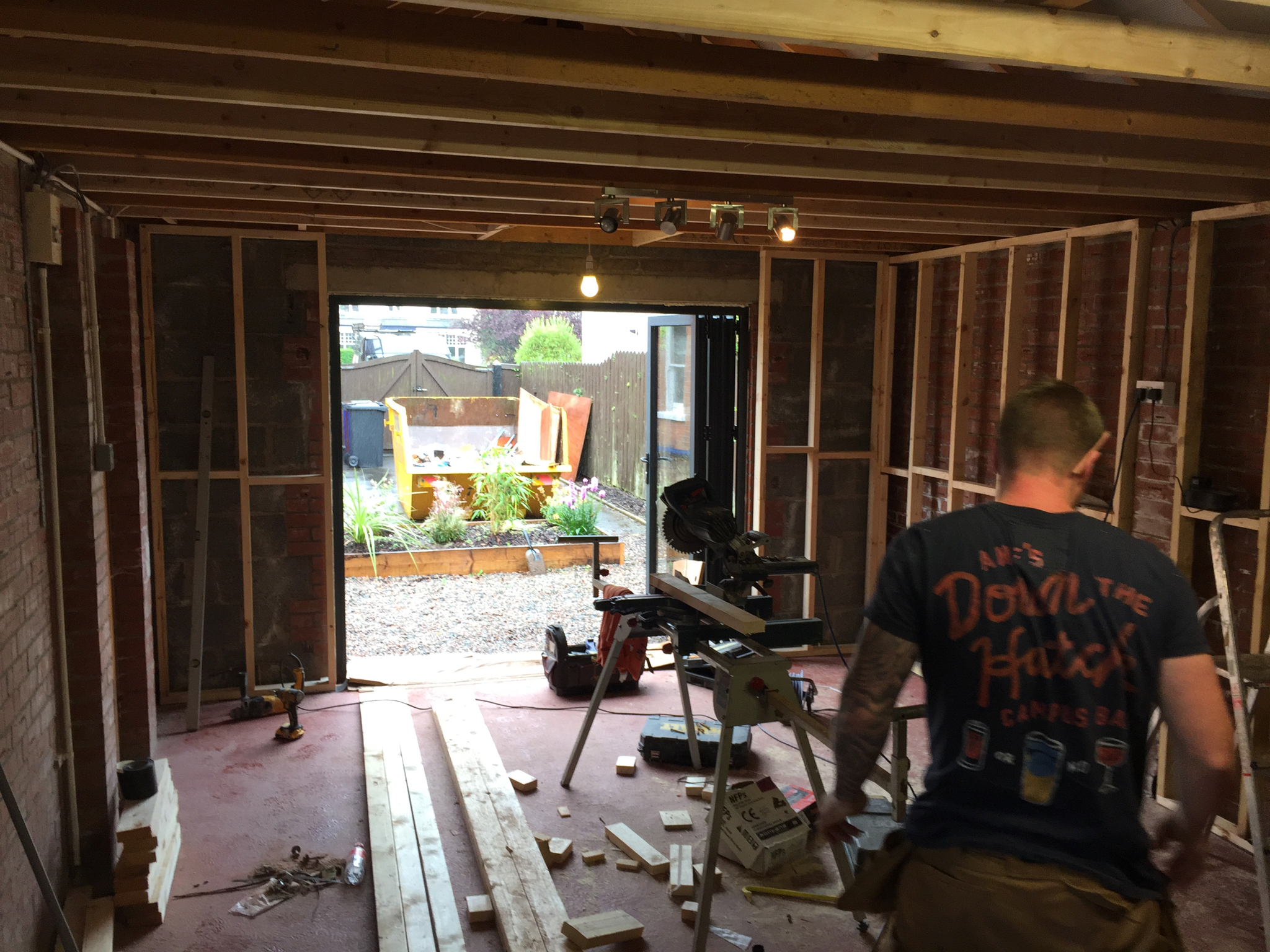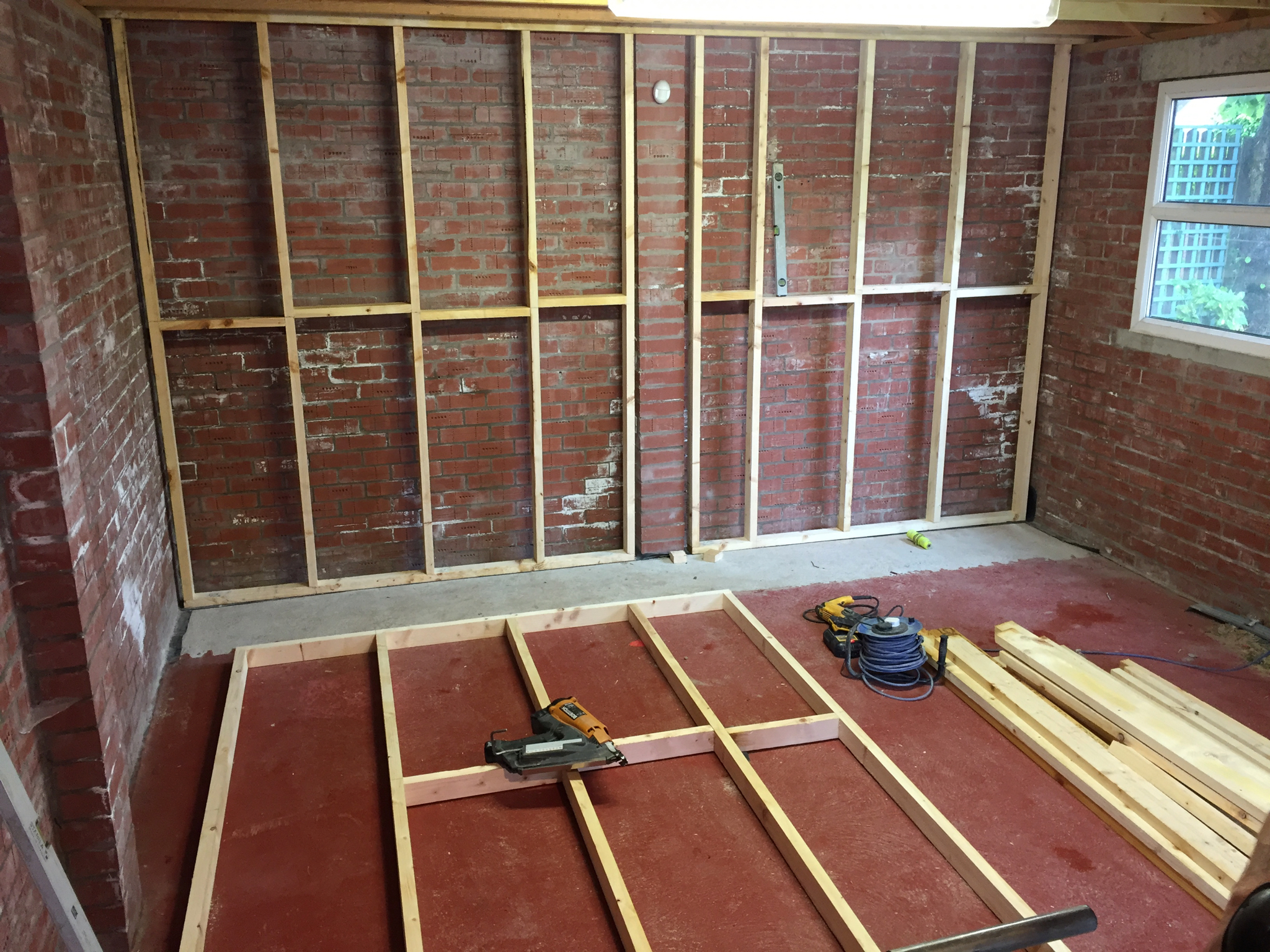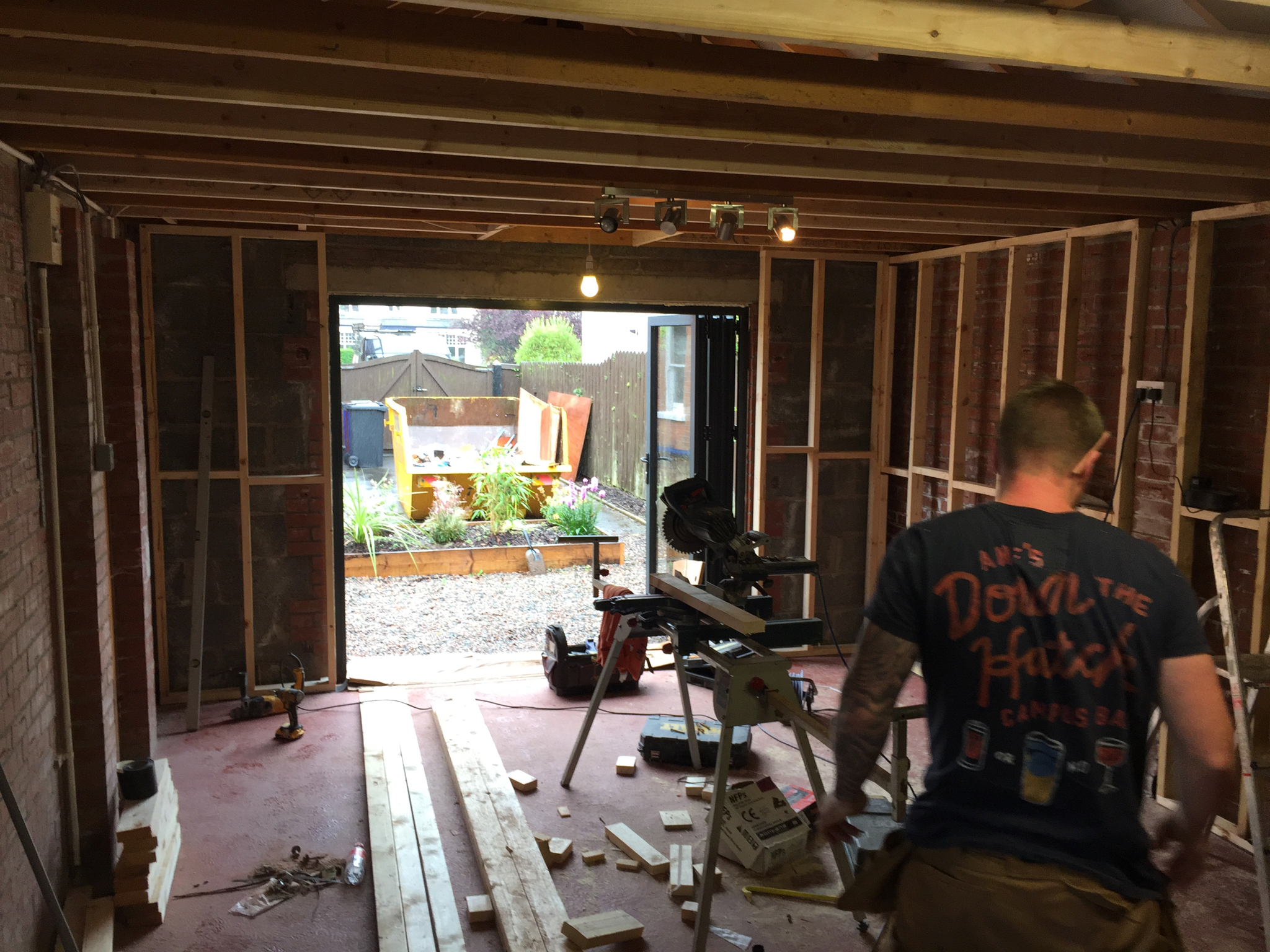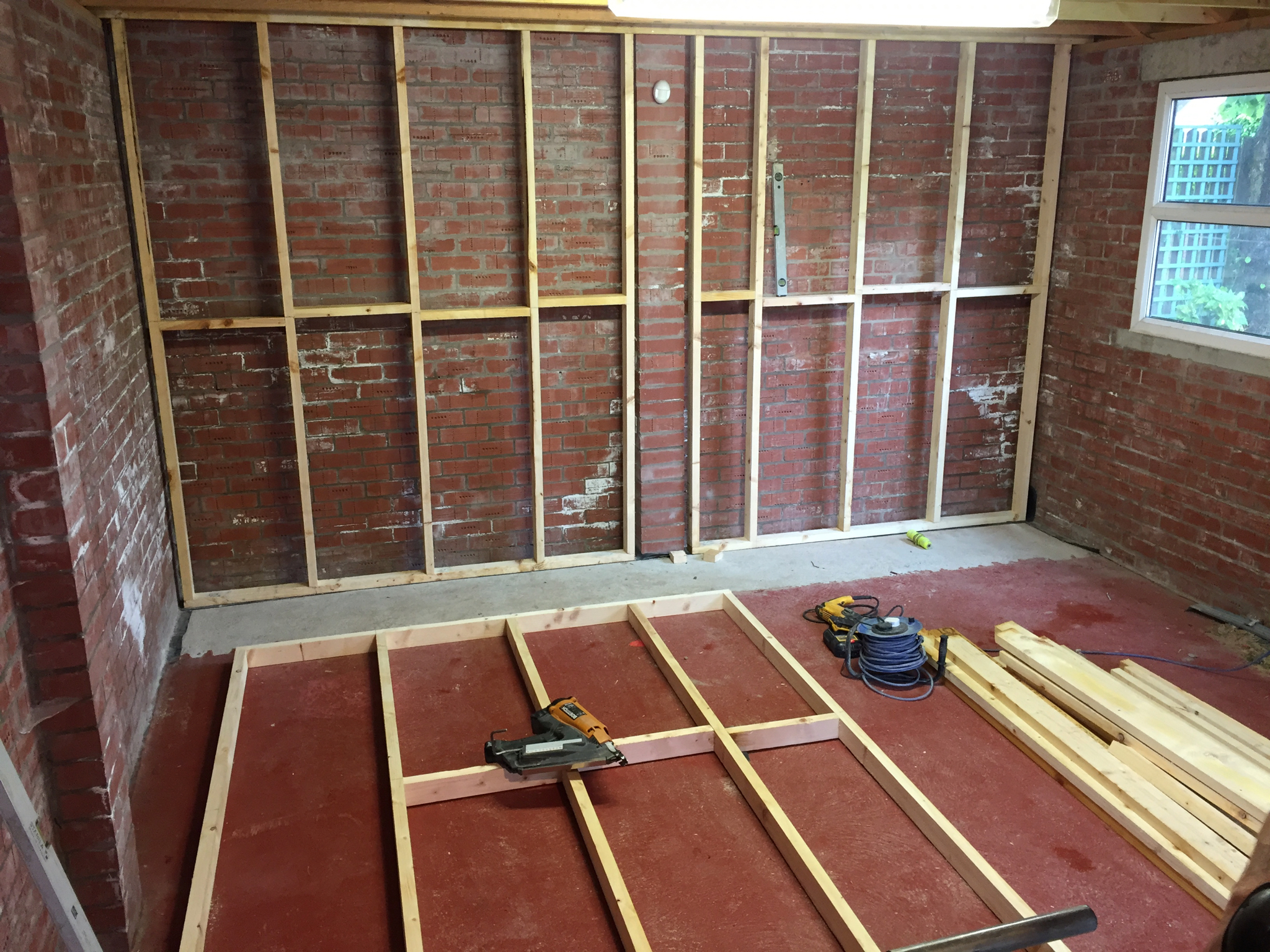 Once this is complete what we have achieved is a stud wall with a circulating air gap which clears air into the roof space and stops any damp building up from heat within the building. Where the brickwork creates the shape for the pitch roof there are small air gaps which allow for a constant flow of fresh air which is essential.
For those wondering about the thermal issues with creating this air gap, the entire space above the ceiling is lagged with 50cm (yes centimetres) of thermal insulation made up of an environmentally friendly Earthwool roof lagging product, which is completely recycled product.
Moving down to the floor, oak flooring was chosen. This sits on an acoustic membrane made up of a thermal foil skin which then has an acoustic layer to reduce noise and reduce heat loss through the floor.
As a feature (and also to create a diffuser) one end wall, plus part of the side walls was clad with recycled pallets - which cost a grand total of zero to acquire. You can get them from a local builders merchant who has to pay to dispose of them. I asked my builder not to resize or sand them so that the wall would have an uneven surface. To be honest there was little science in terms of getting a computer and measuring models of the idea, my view was it looks great and if it helps with the sound of the room then that's a bonus. We'll come to the sound of the room in my next instalment on acoustic treatment.
Does It Work?
If you recall the stated aims of the construction was to meet both building regulations, such as thermal performance and also the acoustic requirements of keeping sound out and in.
In terms of the thermal performance the room maintains a constant temperature, all the design helps to keep heat in and the heat/cold out. Even though the weather in Ireland can offer 4 seasons in one day, the temperature fluctuations are minimal and it's a very comfortable space to work in.
Acoustic performance is equally pleasing. As I stated in my last post the reduction of noise coming in has been excellent, taking the noise from the road outside my studio from around 70-80dB to around 15-20dB. To put the in context the fans on some of the gear in the studio are more noticeable. Even better, is the ability for the sound to stay inside the room. I ran some test where I set my monitoring to almost ear-bleedingly loud, so loud staying in the room for any considerable time would be unbearable. I then went outside to measure the attenuation and found that at 3 meters the sound is almost non existent. As the closest property to me is around 15 meters away, I'm happy that noise complaints are never going to be an issue.
Summary
I have to say that I am lucky to have had a detached brick construction building sitting on a concrete slab as my starting point. I doubt greatly that it would have been as easy to get the performance I have with a wooden construction or in a space attached to another property.
That said, building and construction technology has improved greatly over the last few years and the performance possible with many newer products makes the whole task a lot easier.
The advice from my builder and architect was essential in helping to make the right construction decisions and product choices.
In my next post I'll be talking about the treatment inside the room to get the space sounding right.