Recently the Pro Tools Expert "London team" spent the day at Mike Aiton's studio in Twickenham for a demonstration of Trinnov's new D-MON system with Paul Mortimer from Emerging Ltd.
I have been using Sonarworks Reference 3 Room Calibration software for quite a few months so I wanted to put an article together comparing Trinnov's Pro Audio systems to Sonarworks Reference 3 in:
Usage
Cost
Room correction.
Both products clearly fall under the same category of "room correction software" with both companies taking totally different approaches in design and usability.
The two solutions are separated by quite a large price gap, that for now we will put aside so that we can compare what the main differences are between them.
DSP Hardware Processing vs Native Plug In
Trinnov
The major difference between the two solutions is that Trinnov's room correction software is hosted on a 2U hardware rack device that Trinnov produce in a number of options and configurations.
ST2 Pro
Aimed at music mixers using stereo monitoring
MC Processor
Aimed at post production professionals using multi channel systems
D-MON Series
Available in a range that caters to users of both stereo and multi channel systems with built in monitor control
All the Trinnov boxes house either an i5 or i7 processor for hosting the correction software. The D-MON's i7 also powers the monitoring capabilities not found in the ST Pro or MC Processor products.
Trinnov's systems are to be wired inline between the outputs of an audio interface and monitor setup with the different ranges supporting stereo, 5.1, and larger multi channel configurations.
All the Trinnov hardware require a minimum output VGA display to be connected so that the measurements and preferences can be viewed and adjusted. The D-MON is EUCON compatible with it's own free mobile app that lets users control the new monitoring features.
Sonarworks
Sonarworks host their room correction software "Speaker Calibration" within it's own native plug in called Reference 3 which sits as the last insert within a project's master track within any DAW. Reference 3 works on both Mac and Windows.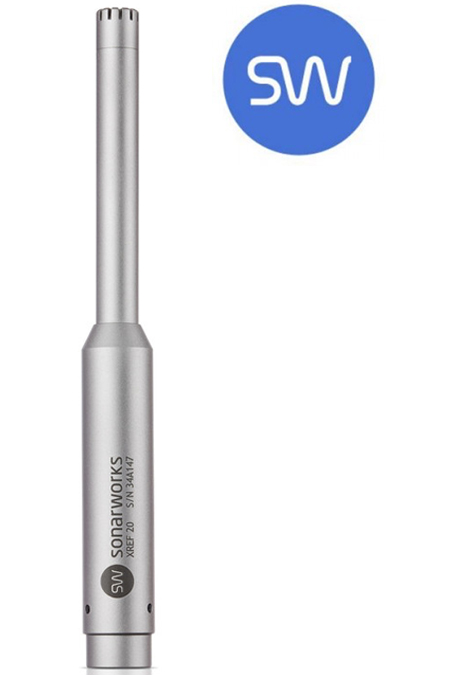 Microphone
Both systems require the use of a measurement microphone so that a calibration profile of a monitoring environment can be created.
Trinnov systems demand the use of their own 3D microphone which has 4 omni directional microphones arranged in a triangle shape so that their system can measure readings in height as well as depth.
For achieving the best results Sonarworks recommend that Reference 3 should be used with one of their own microphones which is an inexpensive mono microphone. Sonarworks provide individual microphone profiles for each of their microphones. This enables Reference 3 to calculate the room more accurately as by using the microphone profile to offset against any tiny differences in tolerance in the microphone's manufacture.
Both microphones are optional extras to purchase and are strongly recommended for measuring monitoring environments by each of the developers.
Setup & Measurement
Trinnov
Trinnov hardware needs to be physically inserted into a monitoring path. Their 3D microphone is plugged into their 2U hardware and placed in the main listening position. The measurements are taken when the system outputs white noise through each of the monitor channels resulting in the numbers being crunched and the room measurements displayed on the Trinnov video output display. It is not required to move the microphone around your room during the measurement and is only moved if a larger sweet spot is needed to be calibrated.
Extra profiles can be created such as a client sofa at the back of a mix room. A correction profile can be created for users to switch between the main listening position and the sofa position when in attended sessions.
Sonarworks
The Sonarworks microphone is mono so Reference 3, unlike the Trinnov procedure, users need to move it around the main listening position when taking readings. The position of the microphone is cleverly tracked and displayed on the computer's display in real time . When the room correction software believes the microphone is in an optimal position a reading is taken. About 25 readings are required for an accurate overall measurement to be taken with the whole process being easy to complete with lots of visual feedback to what you are doing. This for me is where I started to trust Reference 3's abilities.
Both systems take roughly the same amount of time to complete a measurement in around 15 minutes.
Experiencing The Correction
Trinnov
Knowing full well the cost of entry I was very eager to experience Trinnov's interpretation of what a "software calibrated room" should sound like. By listening to my own material in the calibrated sweet spot it confirmed to me that this is a very seriously and capable system. I could not hear the process being applied but could clearly hear the correction to the monitors and space around me. The experience instantly gave me the impression of width and depth, almost like the speakers had been enlarged somehow.
Sonarworks
In short, I use it everyday and have done so since I first installed it. It's become a major aspect of my mixing workflow. To my ears I also feel as though I can not hear the process but can fully experience the correction to my listening spot. I appreciate the fact that the Trinnov software requires it's own hardware to operate but I have found no drawbacks sonically to using Sonarworks natively within my projects. I do however find myself making the same mistake when bouncing a mix as I forget Reference 3 is still engaged. As it sits in the master chain I often forget that it's there so I deliver mixes with a 10db cut and room correction profile printed to the audio master by accident. I suppose this is a benefit to having a Trinnov external/inline monitoring system as you will not need worry about that process of unloading a plug-in before bounce.
Unique Features
The D-MON's party piece is the new monitoring capabilities where as Reference 3's has it's very own clever headphone calibration plug in which corrects frequency response limitations in headphones. This is a great tool as I find it unifies the reproduction of my monitors and my headphones as one flat response is being achieved by both. It is as simple as flicking a small switch between headphone calibration and speaker calibration. This workflow removes the sonic differences between my monitors and headphones that for me can often through my mixing instincts out of the window.
Cost
Trinnov
Prices start at over £3,000 including the 3D microphone for the entry ST2 Pro (stereo) model with prices climbing throughout the range for multi channel systems.
Sonarworks
Reference 3 Room Calibration Software With Microphone Bundle: £189
Reference 3 Headphone Plug-in: £50
Conclusion
Though the price difference between the two systems is considerable, we should not ignore the fact that both Sonarworks and Trinnov products are helping us all understand more and talk about the category of room calibration software. We must remember though that these solutions are not substitutions for physical implementation of acoustic treatment. Software room calibration will always be best used as part of a well thought out studio acoustic treatment plan.
Both Trinnov and Sonarworks have their own place in the market with them both deserving to be there. Trinnov systems being priced the way they are reflects the hardware functionality and usability values. This I feel makes Trinnov Pro Audio products deserving of the title "The Rolls Royce Of Room Correction Software", as serious professional mixers will likely be the types of people that will invest in one.
For Sonarworks Reference 3, well that's like "The Ford Focus Of Room Correction Software". It'll be extremely popular with the masses as it will do everything you need it to in an affordable, simple to use package by a well known trustworthy company.
The fact we have choices in today's market for such products is a great thing and I look forward to the future development of both Trinnov and Sonarworks products.